The LGBTQIA+ community historically has experienced significant discrimination and forced to hide their identities, often living their lives in the "closet." Being a proud member of the LGBTQIA+ community is an important and revolutionary act of self-love and civil rights. Pride parades and events serve to both advocate for queer rights and celebrate queer identity. Participating in a Pride event, whether organizing or attending, can be an important part of showing queer identity and finding community. The slogan t-shirt gained importance as a part of queer representation and activism alongside Pride events, and, more obviously, became a way to overtly state queer identity.
Legalize Trans* T-Shirt, Denim Pants
The "Legalize Trans" shirts were developed by a Trans-activist, Asher Kolieboi, as a way to expand on and address the lack of inclusion of Trans Rights in the original 2008 American Apparel "Legalize Gay" T-shirt campaign. In addition, Kolieboi allows other trans-folx to sell "Legalize Trans" shirts for the campaign and use their earnings to pay for their transition surgery.
"At one of the conferences, one of the vendors was selling "Legalize Trans" shirts to really talk about the lack of trans inclusion legally and just across the board. So just being legalized and being their own identity. This was very popular that year, and many students brought a similar t-shirt." –personal interview with Brad Freihoefer, Director of the LGBTQIA+ Student Success Center at Iowa State University, September, 2017

Midwest Bisexual Lesbian Gay Transgender Asexual College Conference Messenger Bag
Laramie Project T-Shirt, Denim Pants
In 2002, ISU Theater staged "The Laramie Project," which, through interviews and oral histories with the residents of Laramie, Wyoming, examines the community's response to the hate crime of the torture and murder of Matthew Shephard. In the fall of 2009, Ames Community Theater staged their own production of "The Laramie Project," which is remembered as a special instance of the broader Ames community standing in support of the Ames queer community. That same October, The Matthew Shephard and James Byrd Jr. Hate Crimes Prevention Act was passed by Congress and signed into law.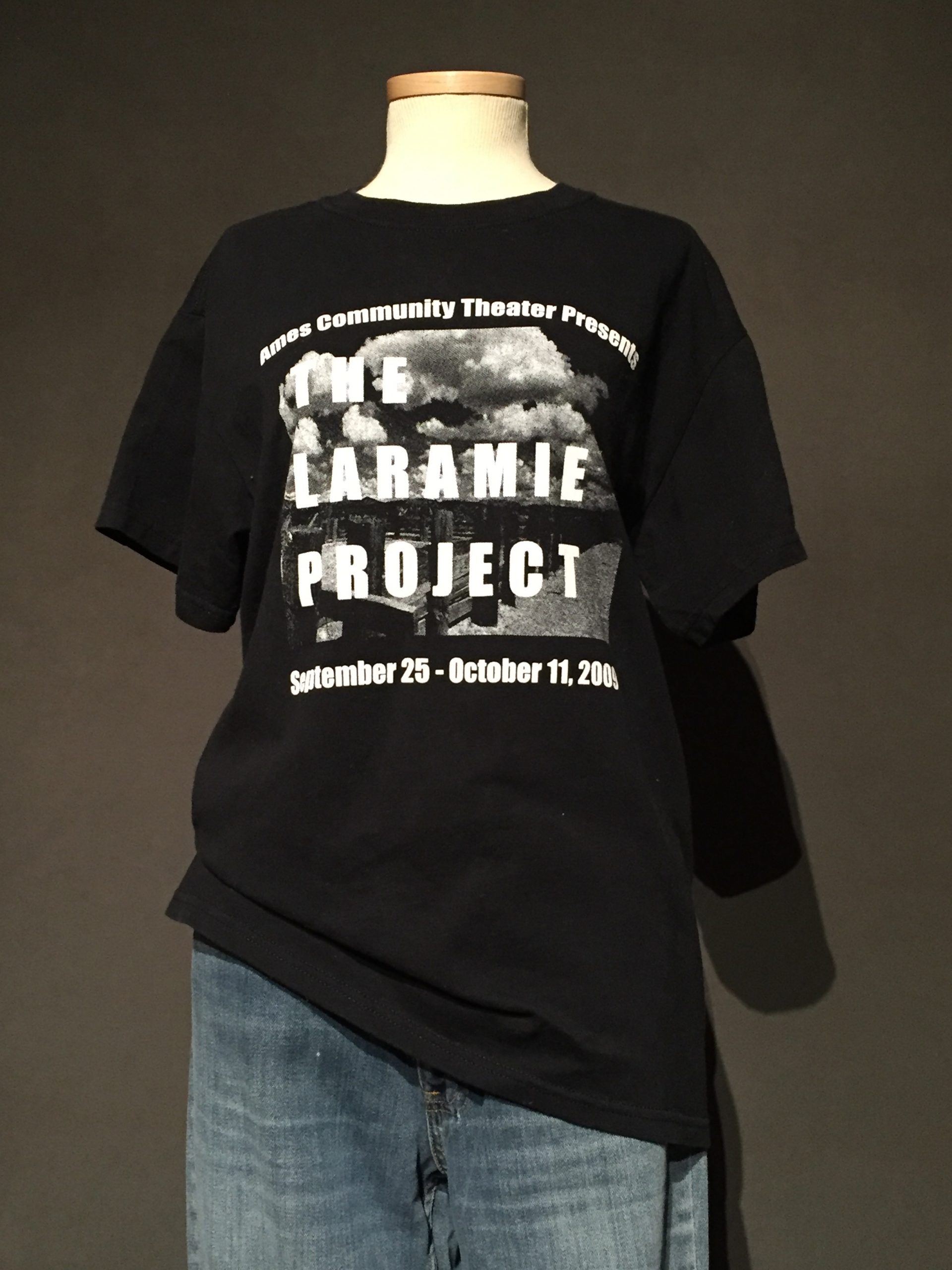 OC Pride T-Shirt
Orange City, Iowa held its first pride festival in 2017.
"We had been talking about wouldn't it be nice to just have a pride. I mean, Orange City can celebrate culture, they do it well with the Dutch culture, the arts council teams up with the local churches and they do a festival? Now to have the LGBTQ community here too, it makes sense, I mean gay people like nice things and this town is quite nice." – personal interview with Mike Goll, OC Pride organizer, November 2017
"I own more than one tutu. I wear this to Pride every year, this was given to me as a gift – a dear friend of mine made this for me, and it was kind of a group effort. This was the rainbow tutu that I got for my 30th birthday and I have found several occasions that call for it" –personal interview with Emma, November, 2017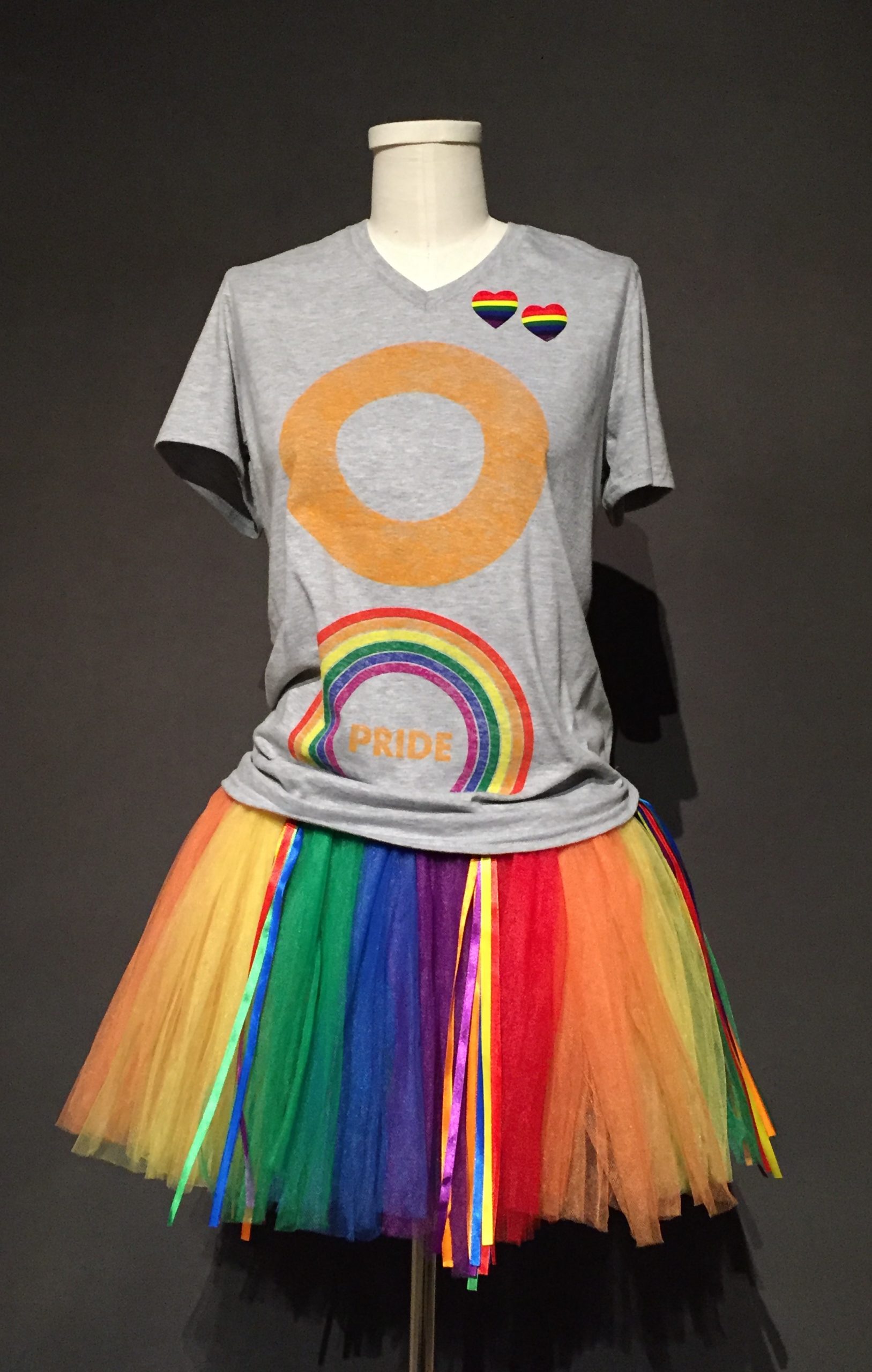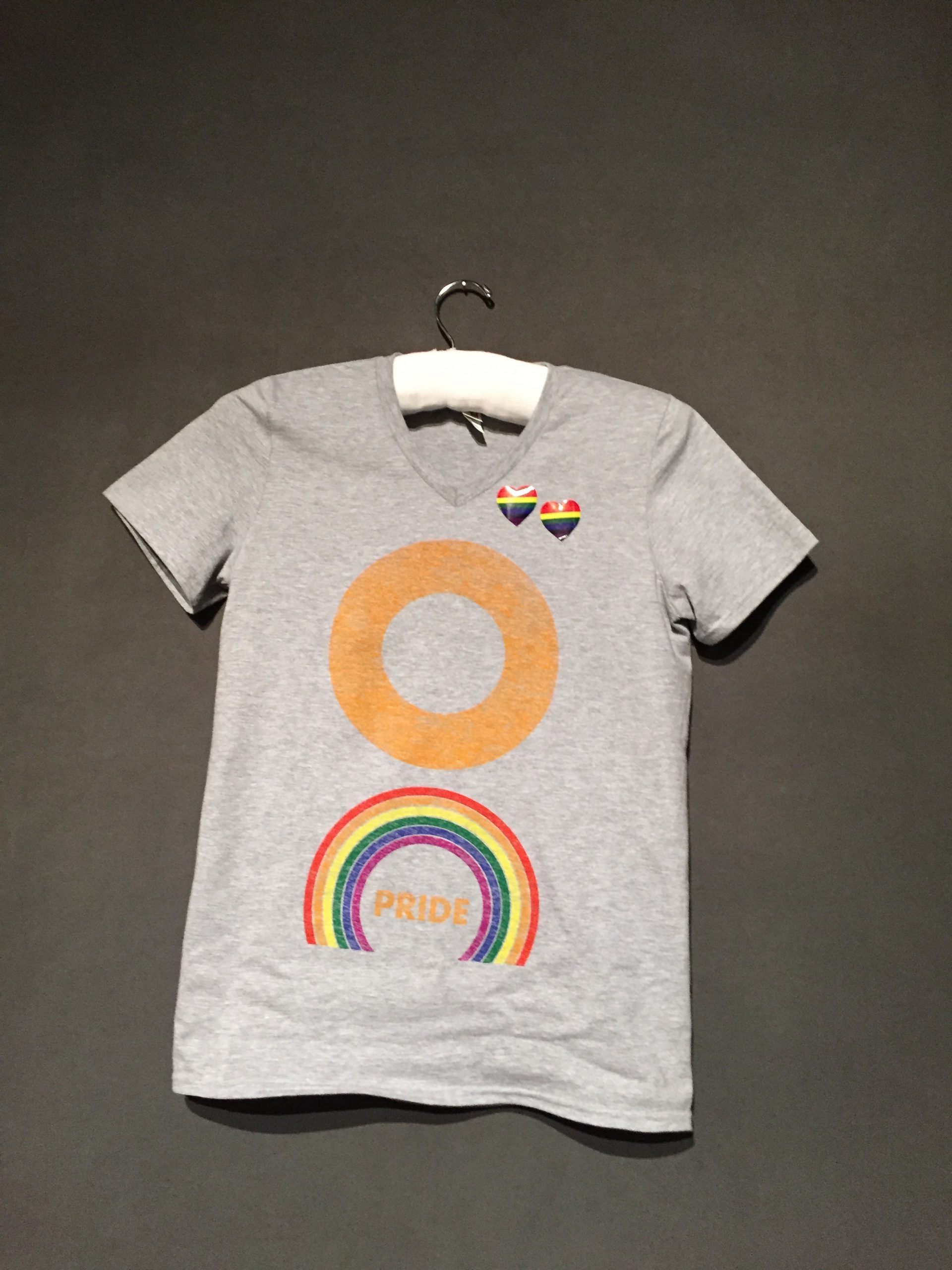 Teal Cowboy Boots
Iowa Rainbow T-Shirt, Purple Banner Carrier with Rainbow Strap, Denim, "A Simple Manner of Justice" Banner
"I went to University of Northern Iowa, I went through the teaching program but I was outed on my last semester. I was told well please continue the last two weeks your practice teaching, so it won't be a scandal, but there will be things in your record that make sure that you are never hired anywhere for a teacher ever."
"So, all of that education was wasted and it took years and years and years for me to emotionally recovered from it. Where I grew up that was so dangerous. To be out back in the '50s and '60s. I stopped making friends. I couldn't let anyone close enough to me, to know me. I was self-isolated, self- encapsulated. And Liberation changed that. It gave me a place to meet my fellows in a non-sexual, non-alcoholic respectable environment, where people could be people and actually, um, form friendships."
"AccessLine decided they have to organize the local community to go to Washington D.C. Someone said we should have a t-shirts so I said to myself, I'll go out and make one. So, I just made it. Then, there was no money for it so, it never went into production unfortunately. But, you know. We still have this prototype." – personal interview with David, October, 2017
"The banner has been in a dozen parades, in fact, we trooped this all the way down to Iowa city." – personal interview with David, October, 2017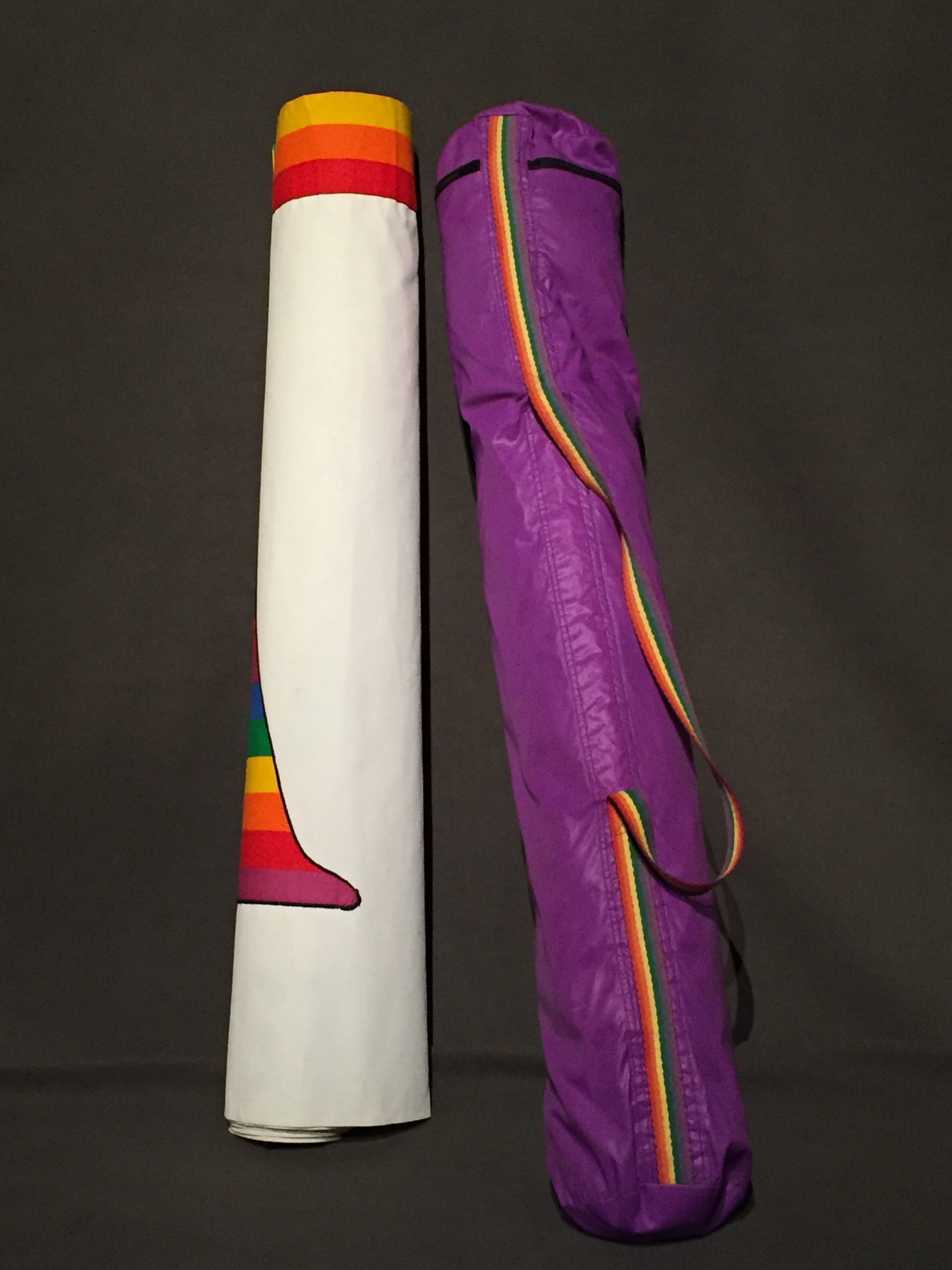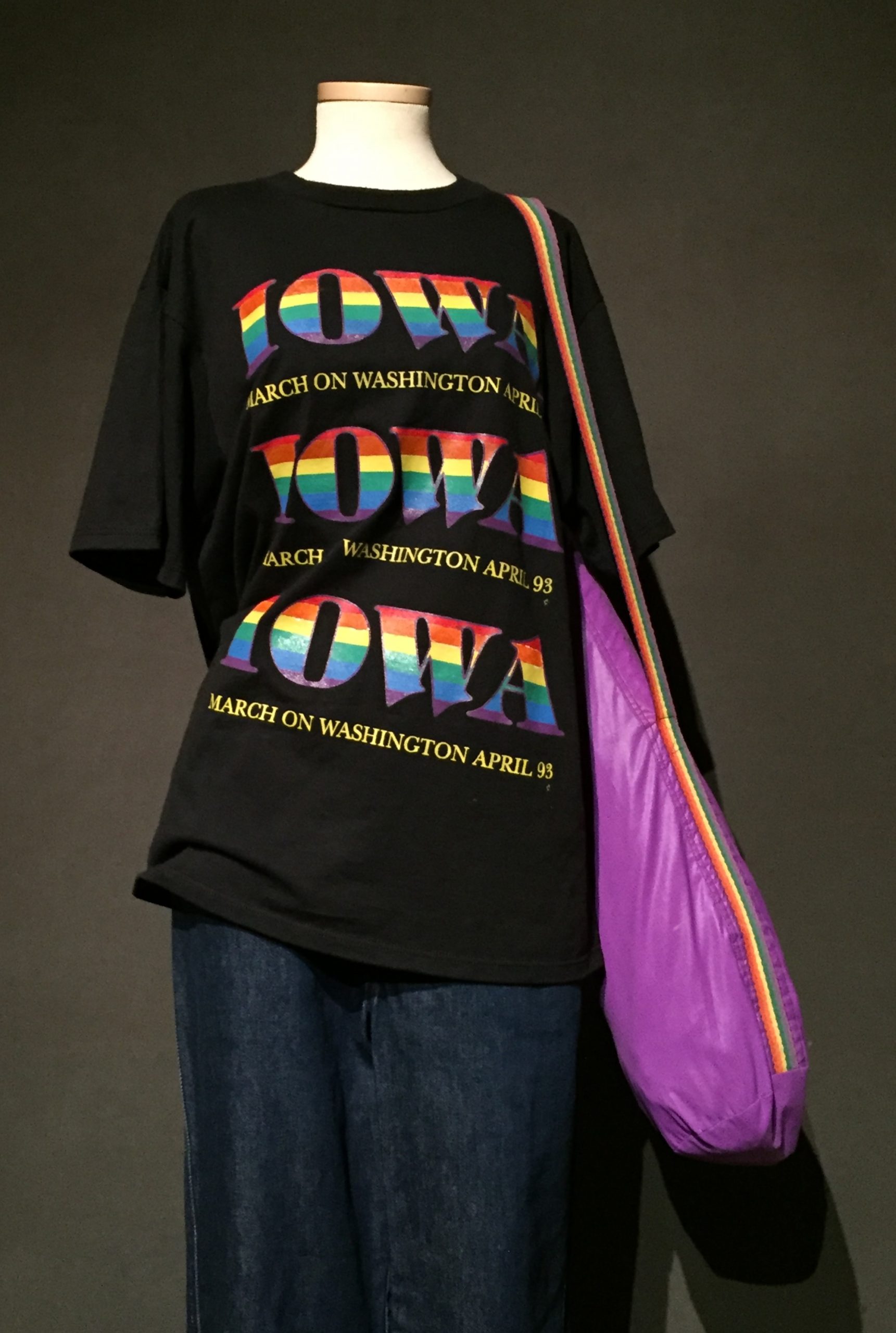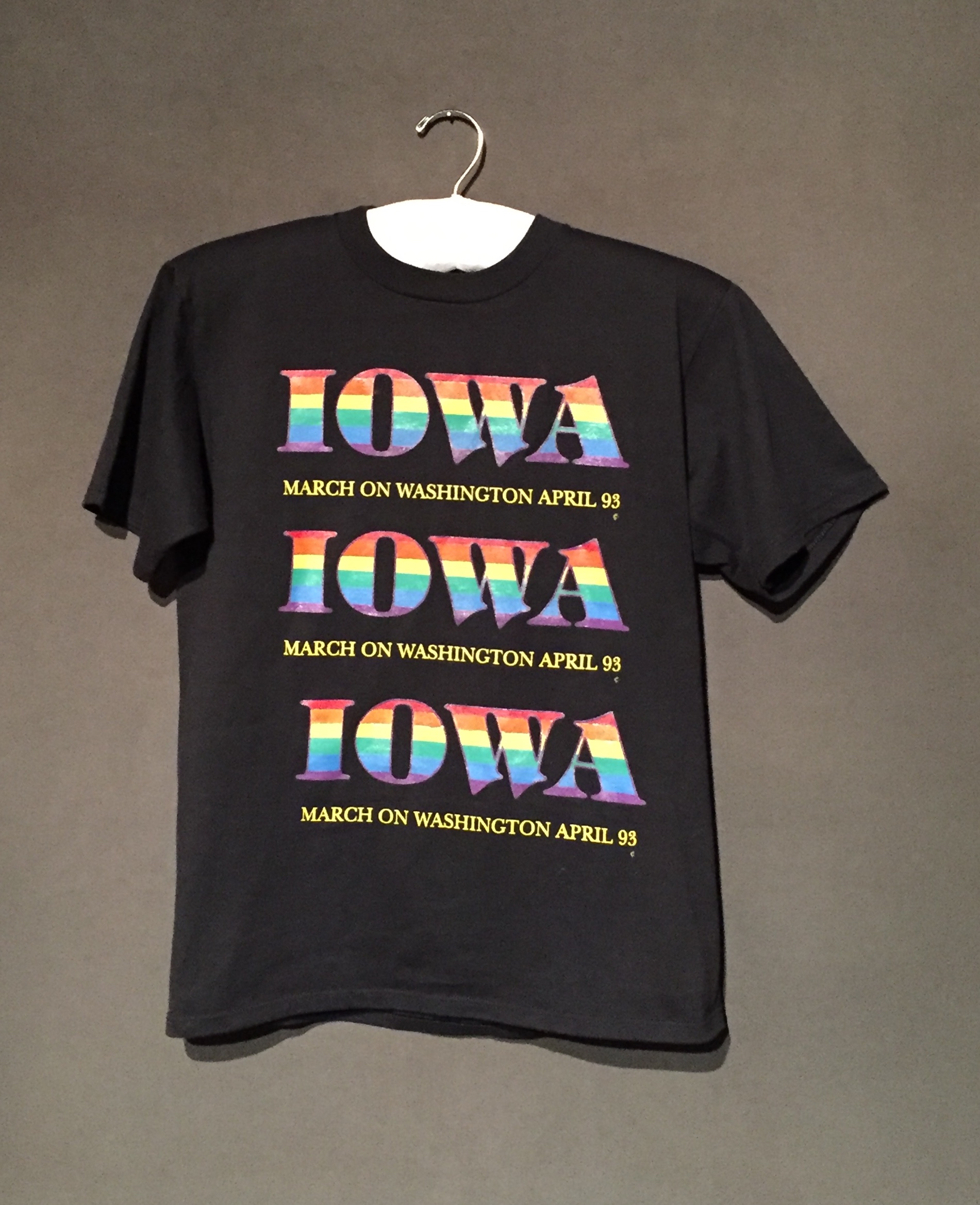 "A Simple Manner of Justice" Banner

Lesbians of Iowa (#LOIA) T-Shirt, Denim
"After a couple of months, trying to find community through like the Des Moines pride center and the gay bars in Des Moines, another friend of mine and I decided to launch Lesbians of Iowa together."
"A lot of the Lesbians of Iowa community is rural. There isn't a lot of support in their community. A lot of them have families that don't accept them. So, Lesbians of Iowa is kind of become not just in networking, but it's support and almost a family itself especially for those who are outside of bigger cities who need support friendship and even partnership. I think that's the most rewarding part of Lesbians of Iowa, like it's beyond the daily interaction, but the way that people can feel that they're not alone, and then, they are accepted, and that they have somebody, even if there not near. I think that's one of the most beautiful uses of technology that I have seen so far." – personal interview with Lesbians of Iowa Facebook administrator, December 2017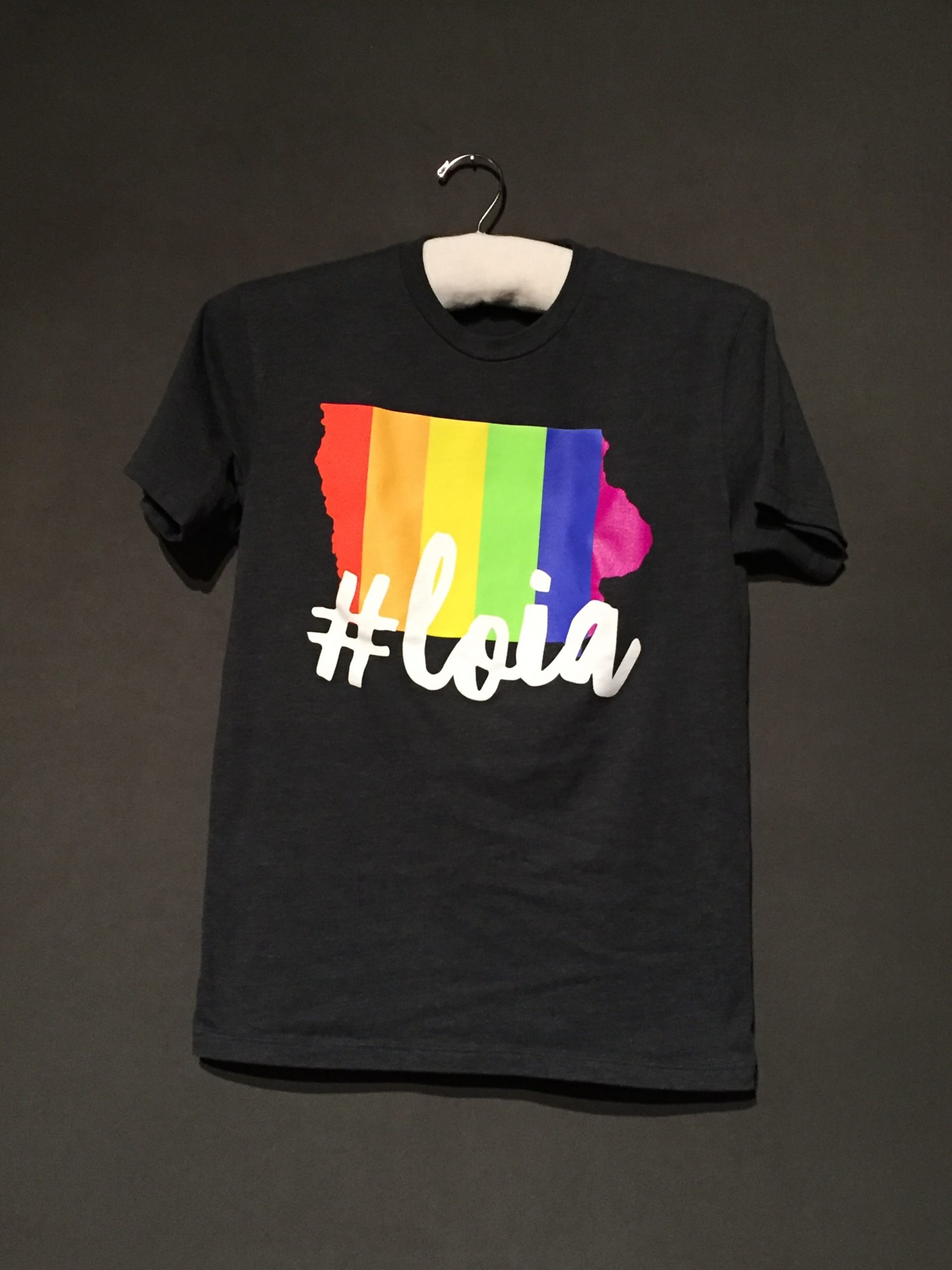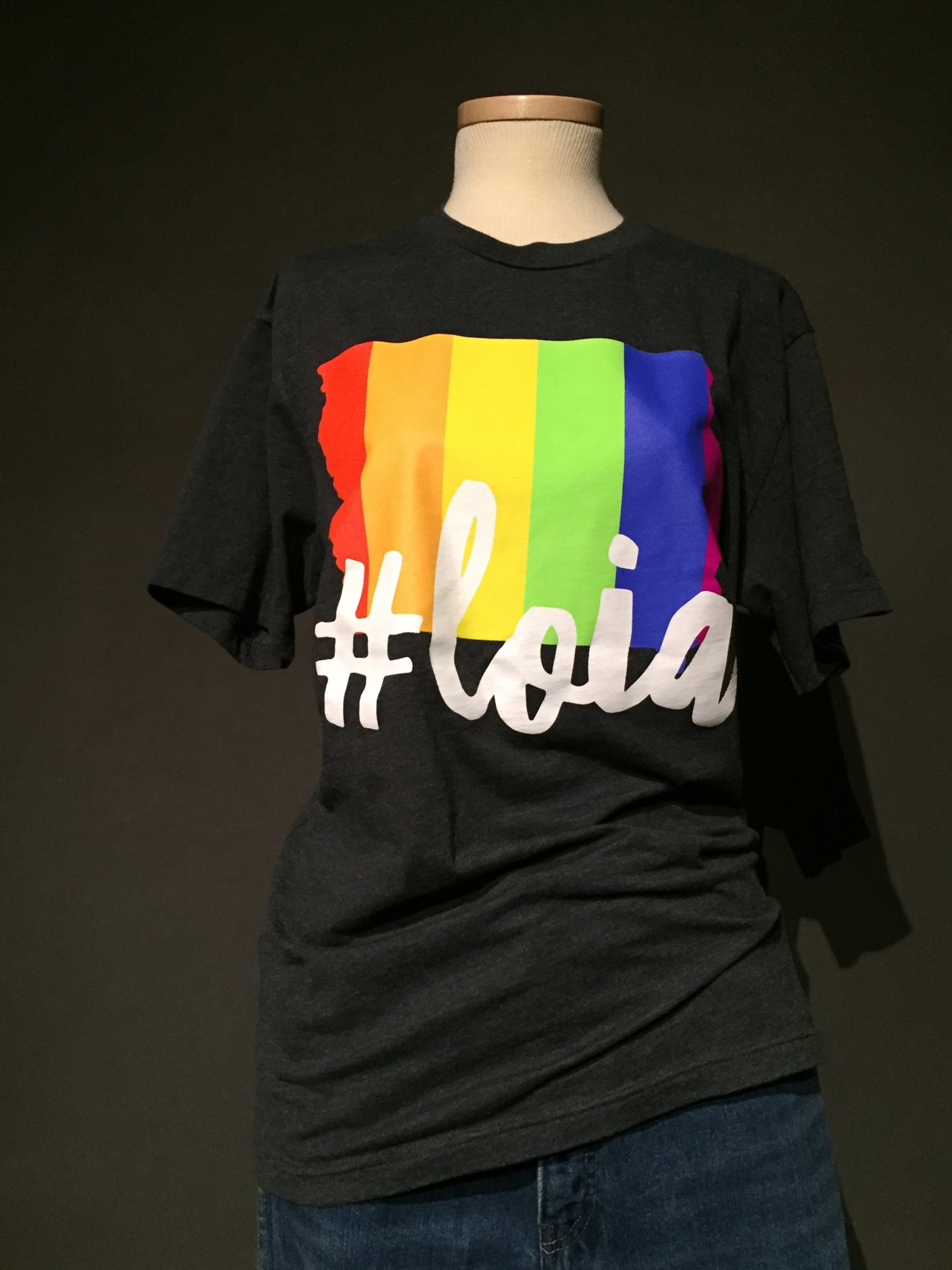 Dugan's Deli T-Shirt, Denim
"Dugan's was more than gay, it encompassed the whole (post-hippie) counterculture. People loved it. Everybody was welcome, and it was just a very comfortable place to meet friends, discuss how to fix the world, and so forth. For a number of years, I worked till 1 AM and then rushed there for the last open hour till 2. The Ames Jug Band played there frequently (yes, there was live music). Other artists came through. I remember Holly Near being there one hot summer night."
"In about 1976 a small disco opened up out on the western edge of Ames. The other dance bars in Ames at the time didn't exactly understand what music was best to dance to. This was a common 'straight' issue. But this place, run by several folks who were from Puerto Rico, was spot on with the music we'd hear in Des Moines bars and elsewhere. A few of us went there to dance, and at first, they welcomed us, but then the straight patrons complained, apparently, and we were made unwelcome. I don't think the owners cared. In fact, they thought it rather cosmopolitan, but they were afraid of it damaging the business."
"I can't remember the name of that bar, but indeed, in several years it was gone. By 1978/79, the backlash against disco and gay disco in particular was in full swing." – email communication with Dennis Brumm, an Ames resident in the 1970s and ISU alumni, October, 2017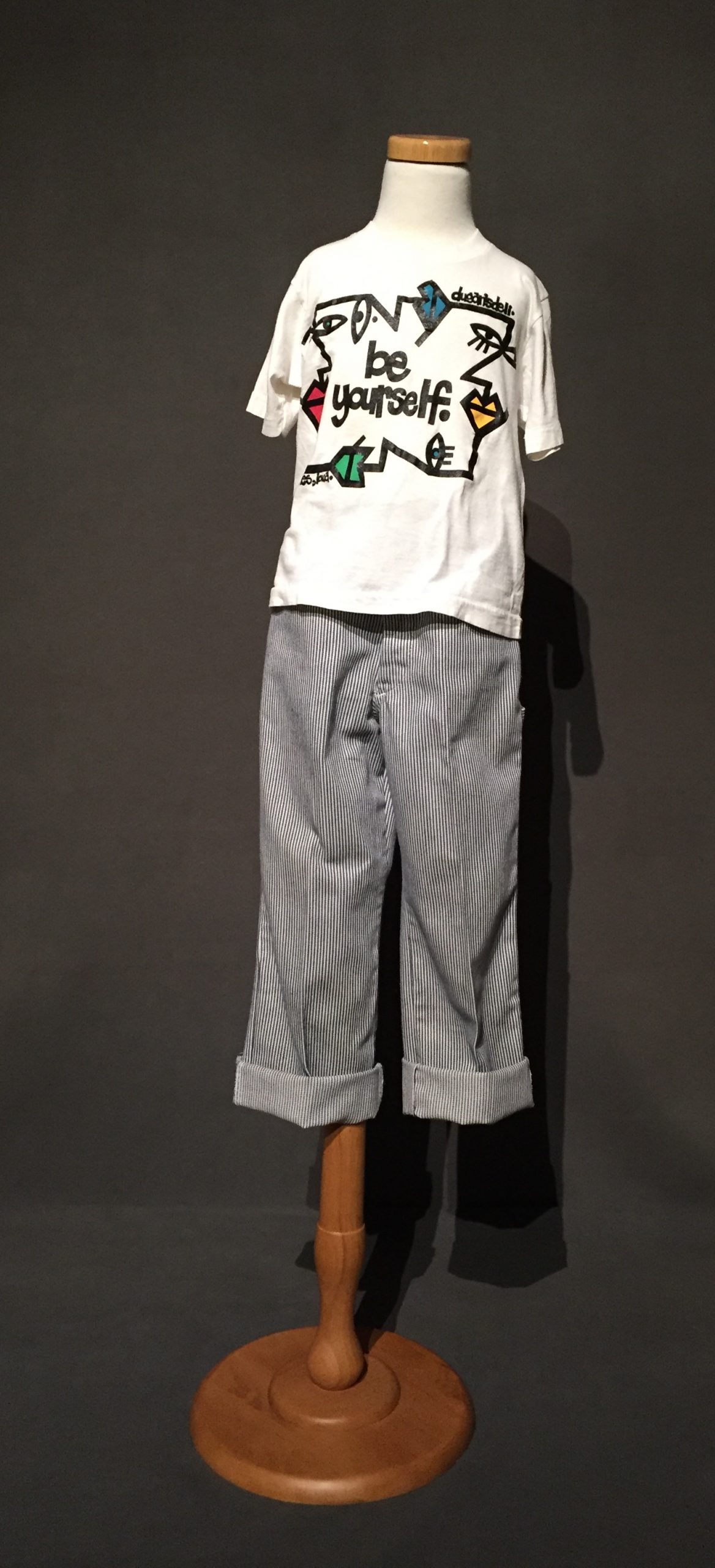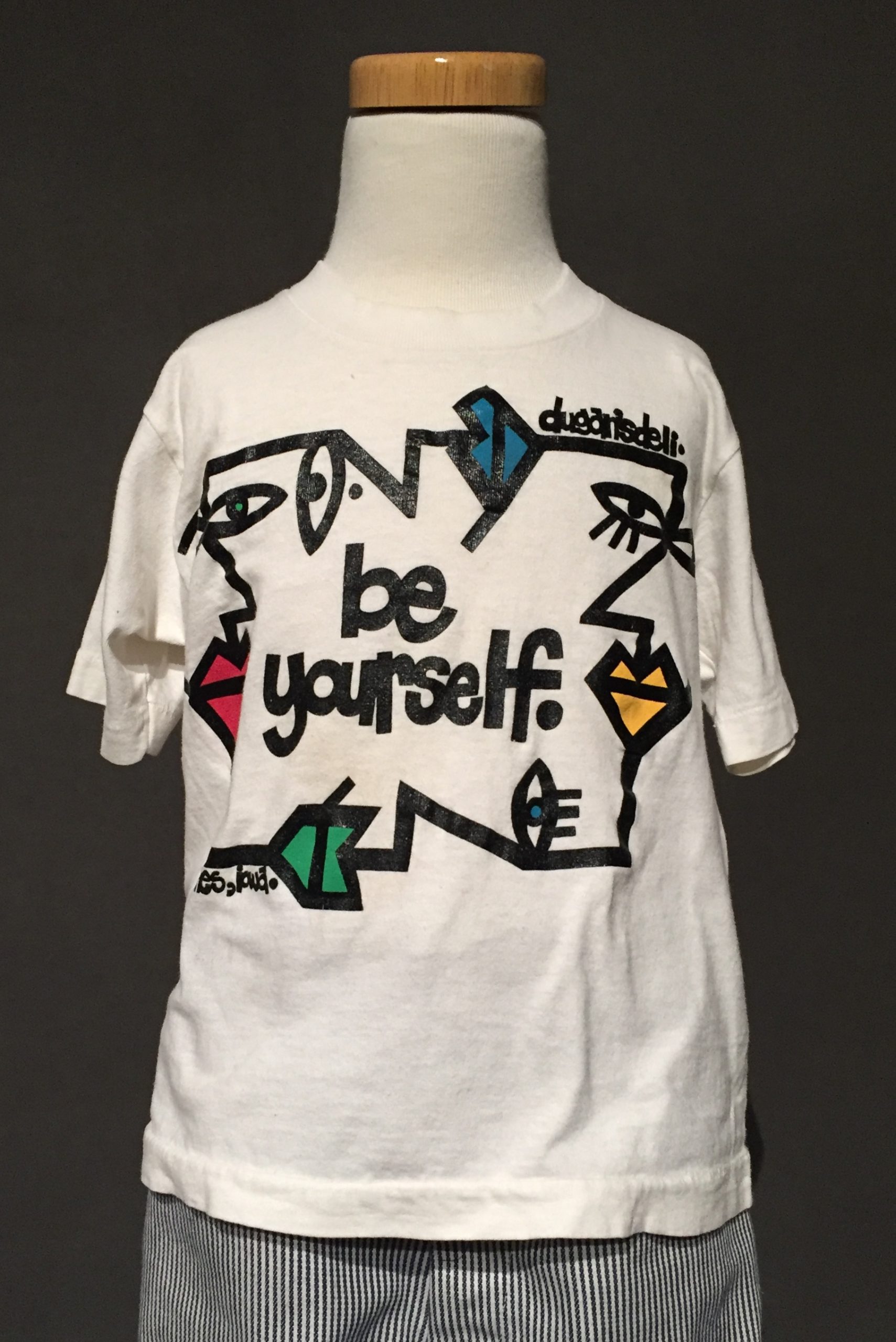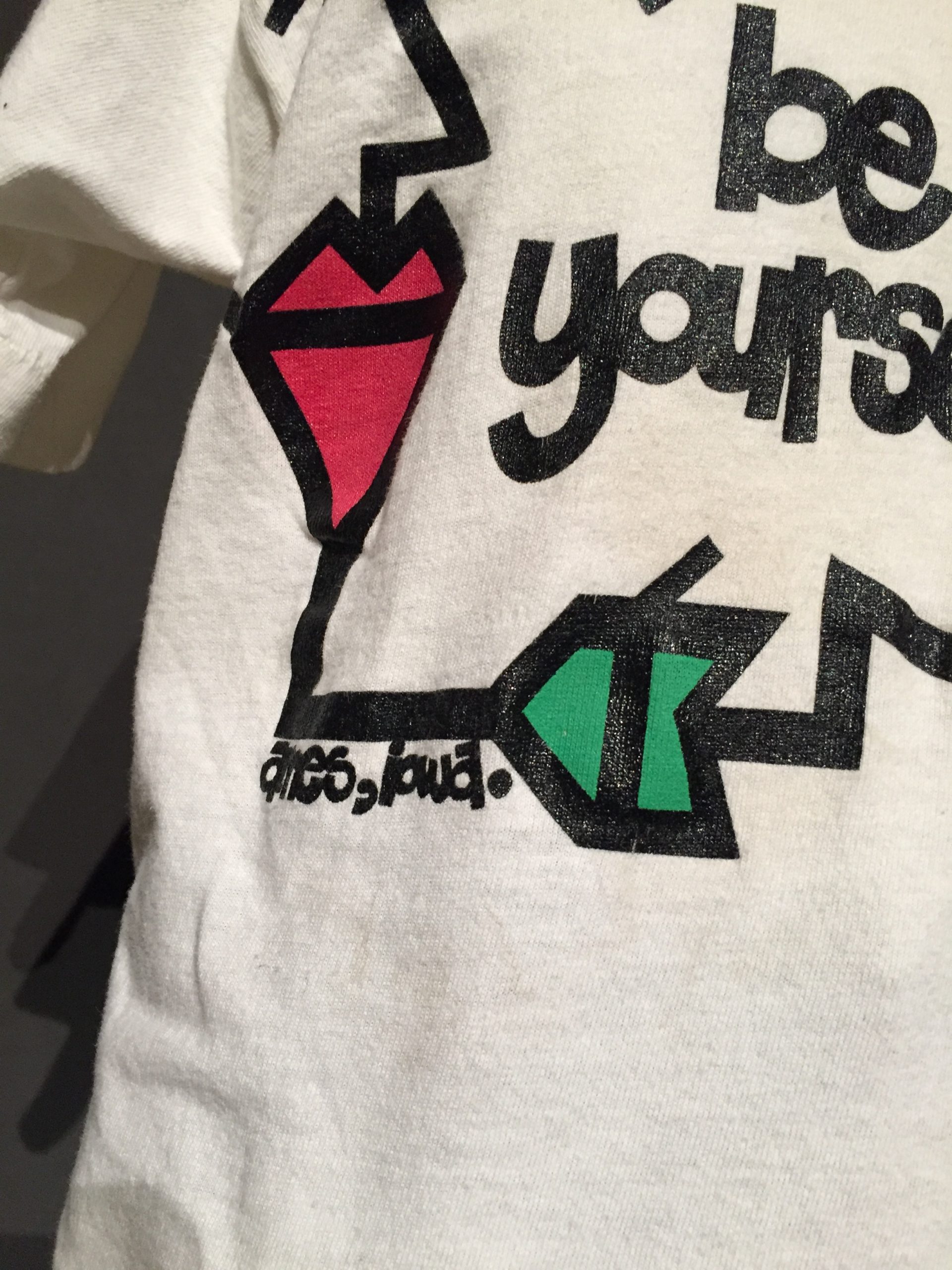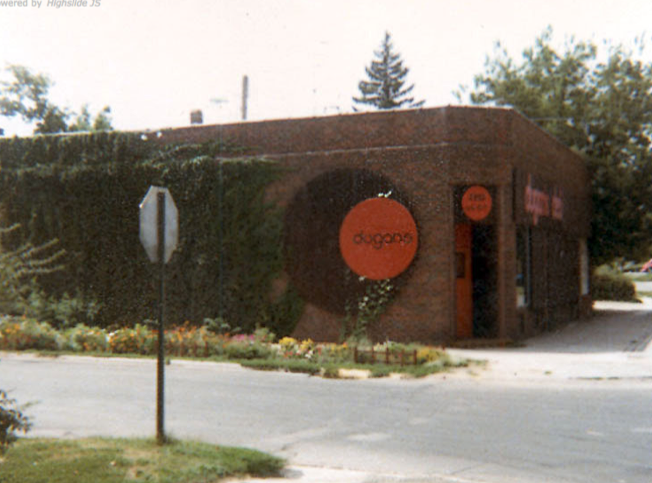 Assortment of Pride T-shirts