Problem Ownership
Diana Lang
Problem ownership is an important tool to utilize when caregivers are communicating with children because it can help avoid blaming and arguing.  This is when caregivers take time to reflect on an issue and think, "Whose problem is this? Who is actually upset about this?" Sometimes we may think the child is the one with the problem when actually we are the ones getting upset. In reality, the child is just fine – we are the ones that have a problem.  This is when a caregiver should own the problem.
If a caregiver owns the problem, it is a perfect opportunity to utilize effective communication strategies such as I-Messages to express one's thoughts and feelings regarding the problem.
If, however, the child owns the problem, caregivers can use this as a chance to practice adult-child interaction techniques such as active listening and the CALM method to connect with the child concerning the problem.
Problem ownership helps caregivers determine which problems they need to figure out themselves, and which problems they should allow their children to figure out.  This provides a learning experience to gain responsibility for one's actions that can be utilized in other relationships as well. [1] [2]
Third-grader tells his dad, "Caleb is not my friend anymore!"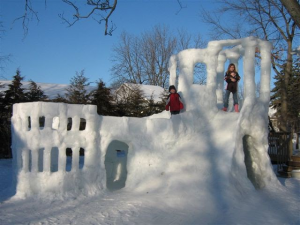 Dad: (active listening) "So, I hear that you are upset. What happened?"
Third-grader: "Caleb knocked down our entire snow fort during recess today! It took us three entire recesses to build it!"
(Dad feels sad for his son and wants to advocate for his son. Dad contemplates calling the teacher or Caleb's parents.  After reflecting, Dad asks himself, "Whose problem is this? It's my son who is upset.  I need to help him navigate this and let him know he can talk to me about these types of issues."  Dad decides to ask open-ended questions and use active listening to learn more about the entire situation.)
Dad: Why don't you tell me what happened.
Third-grader: Well… (child has the opportunity to retell the incident and decide for himself, with his dad's nurturing and understanding support, what to do about the problem).
This type of interaction allows a parent to provide support while assisting the child with ways to resolve or work through a problem.
Problem ownership is when an issue is reflected upon and analyzed to determine who is upset and who owns the problem in a situation.
A solution can be determined based on who owns the problem.
---
Taylor, M. (n.d.). Problem Ownership - key to solving your family/inter-personal dilemmas. Retrieved from https://www.lubish.com/problemownership.html ↵
Heath, P. (2013). Parent-child relations: Context, research, and application (3rd Ed.). Pearson. ↵