Newly Processed Collection Highlight—The John D. Pusey Collection
Rosalie Gartner
The John D. Pusey Collection (MS 241) is a collection I've been excited about processing since I started here at Special Collections and University Archives back in November 2017. The first time I opened the boxes, I was greeted by beautiful drawings, notes with artistic doodles, and intriguing scrapbooks. Unfortunately, I was also greeted by fragile materials that were difficult to handle and in disarray. Because so much of it was in poor shape, we had to restrict access until the collection could be sent to the Preservation Department, where it was stabilized for use. Once all the items in the collection were stabilized and the finding aid finalized, this collection was ready for researchers and is now available for use.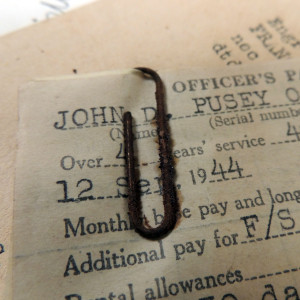 John D. Pusey was a native Iowan, born in Council Bluffs in 1905. His entire life and career as both artist and military man read like a story book. Thankfully, we have this collection to help tell his story! Right after he graduated from high school, he set off on a grand adventure to pursue a career in art. He attended multiple schools, finally earning an art degree from Yale before moving to France to study art at the Musee du Louvre and the Musee du Luxembourg.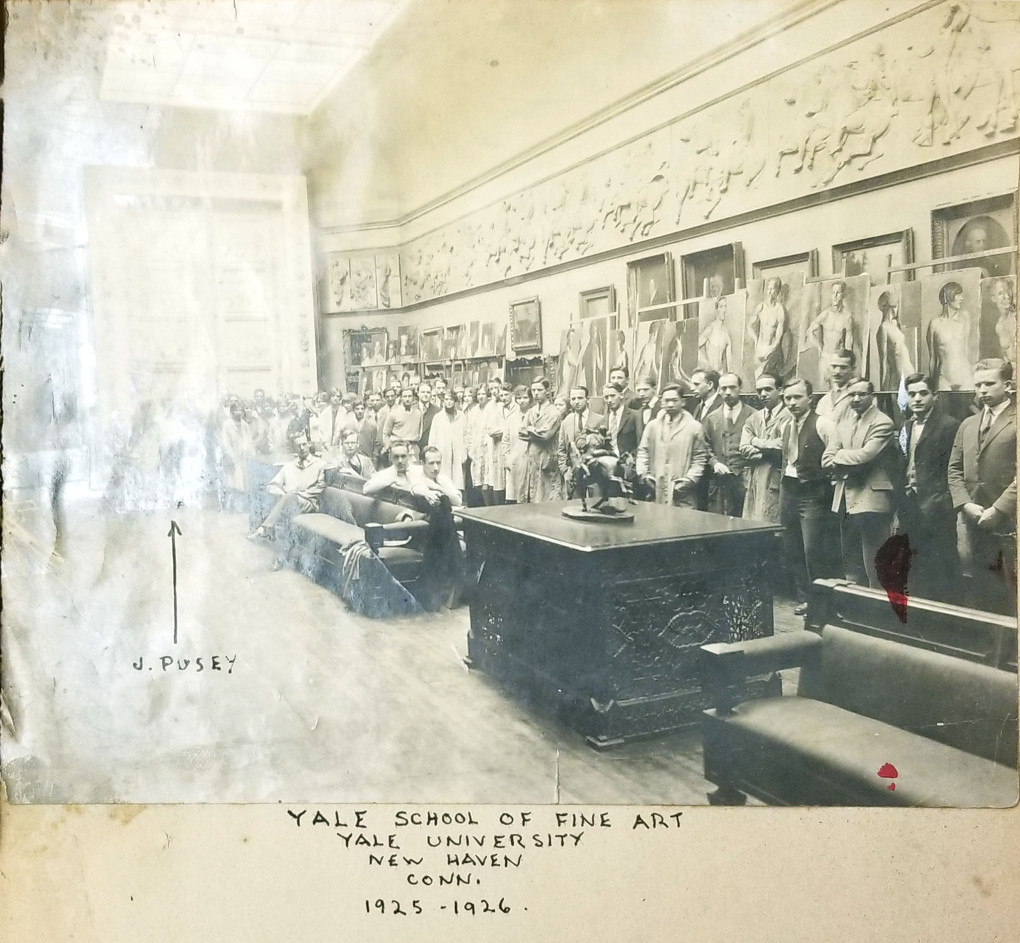 Pusey returned to the U.S. before the Great Depression began. He was fortunate to be commissioned by the Public Works of Art Project to create murals in public buildings in Iowa City, which he did under the supervision of a well-known artist by the name of Grant Wood. Under Wood's supervision and guidance, Pusey further developed his artistic style.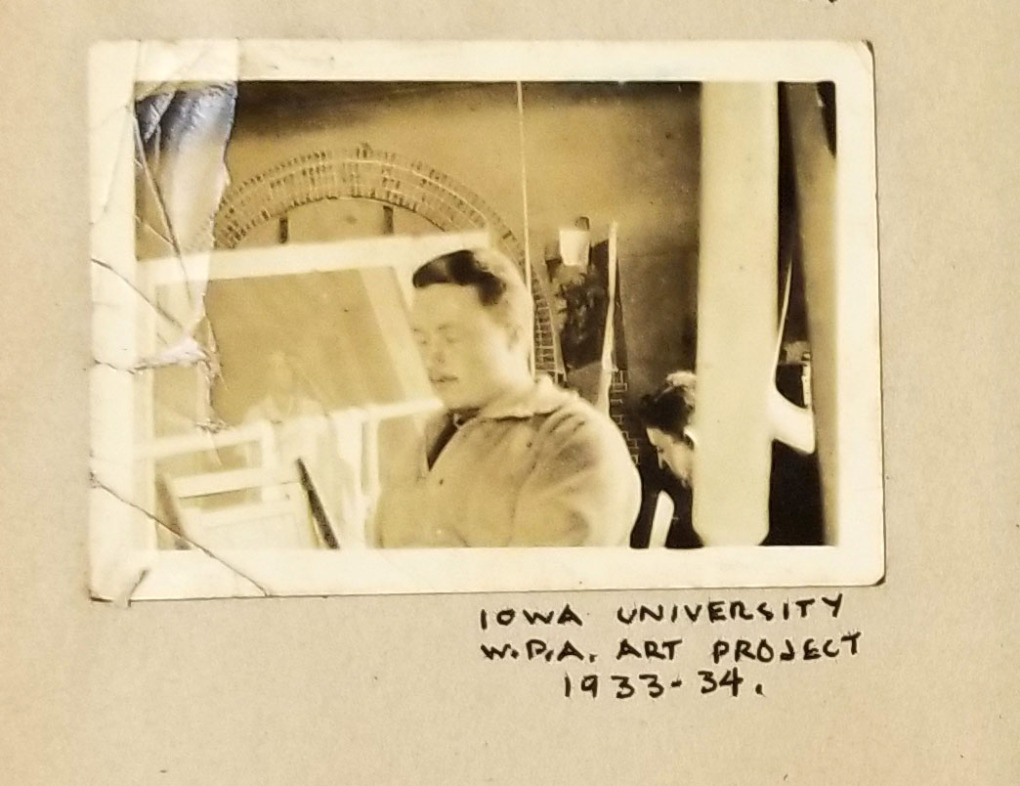 After he was done with the W.P.A., Pusey found work in a variety of ways; he spent two years painting a mural in the home of the wealthy Eli Lilly, worked as a set designer for Universal Studios, and painted murals at the San Francisco World Fair in 1939.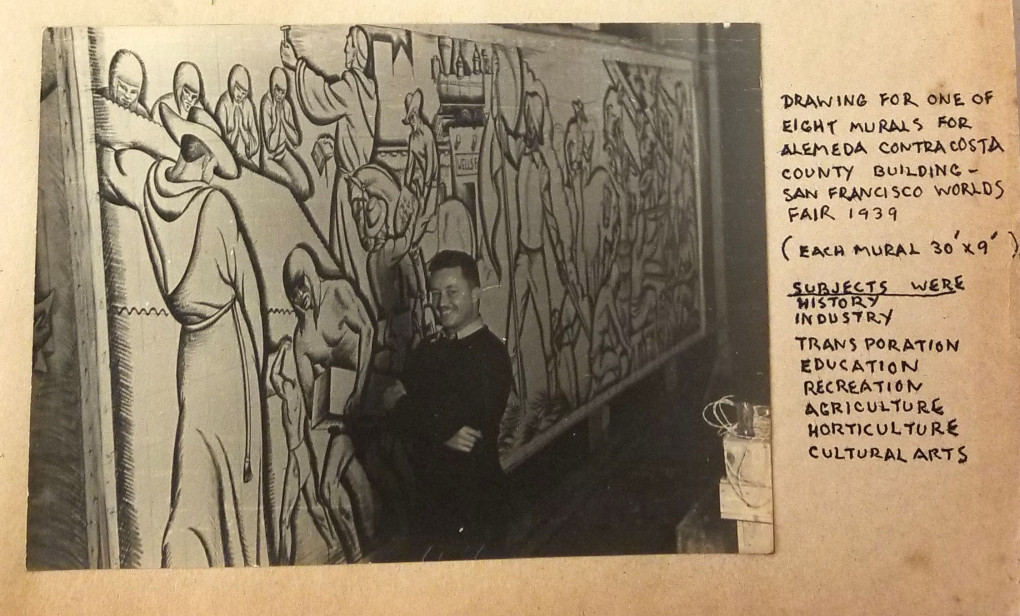 At this point, John Pusey enlisted in the military to serve in WWII. His military career was equally as fascinating as his art career. Shortly after enlisting, he was transferred to the Army Corps of Engineers where his skill as an artist was put to use designing camouflage patterns, in addition to diffusing bombs! He served in WWII as well as the Korean War. We have many personal photos taken while he was in Korea, and his notes taken during his military training are full of doodles in the margins.
After retiring from the military, Pusey returned to his life as a painter. Much of his artwork is represented in this collection through photographs, as well as a few of his sketches. This collection was an absolute delight to process, and I look forward to researchers using it. I'll leave you with one final photo from the collection: a picture of Pusey's friend Christian Petersen sculpting Pusey's bust, which resides in the Christian Petersen Art Museum at Iowa State University.