Mr. Francatelli's Cookbook
Amy Bishop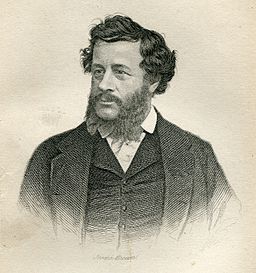 If you have been watching Victoria on PBS's Masterpiece, you may be interested to know that the palace chef Mr. Francatelli was a real person—and a cookbook author. Charles Elmé Francatelli, born in London in 1805, studied French cooking in Paris under Antonin Carême before returning to England. He held several positions as chef de cuisine and maitre d'hotel for wealthy noble families and various London clubs before serving as chief cook for the royal household in 1840–1842. In the television series, Victoria requests that Mr. Francatelli return as cook after the chef that replaces him serves less-than-appetizing dishes. The reality may have been the opposite: his short term working as chef for Victoria may have been because she and Prince Albert preferred plain English cooking to French cuisine.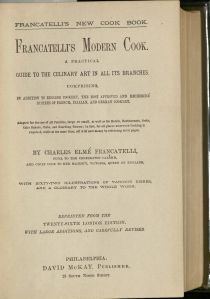 Charles Francatelli published a cookbook The Modern Cook in 1846, which was popular enough to run to twenty-nine editions. In doing so, he joined the ranks of celebrity chefs that had begun in England in the 18th century, and which carries on today. Capitalizing on his service in the Royal Household to cement his celebrity status, he writes a full-page dedication "To The Right Hon. The Earl of Errol," Lord Steward of the [Royal] Household, under whose "liberal and judicious directions" Francatelli served as Chief Cook and Maitre d'Hotel while in the service of Her Majesty Queen Victoria.
This cookbook is not for the middle class family cook, as Francatelli notes in his Preface to the First Edition—"Many dishes are obviously expensive, and can only be indulged in by the wealthy epicure…," and later he acknowledges that "throughout this work, the Author has supposed the various dishes and preparations are required to be made for a large number of guests, with the usual resources at hand in a well-appointed kitchen; perfection and economy can only be fully attained under such circumstances."
Take, for example, these three different recipes for Lamb's Ears: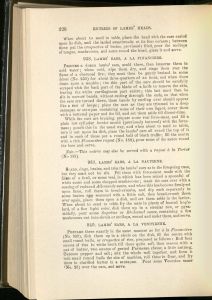 The end of the book includes bills of fare for dinners for every month of the year, to serve from 6 to 36 persons. There are even bills for a ball supper and a public dinner for 300! Several pages contain the bills of fare for actual dinners served for the queen on particular dates: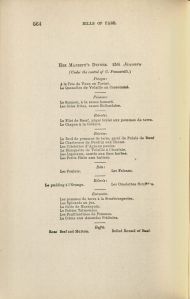 Francatelli published three other cookbooks: A Plain Cookery Book for the Working Classes in 1852, The Cook's Guide and Housekeeper's and Butler's Assistant in 1861, and The Royal English and Foreign Confectioner in 1862. He also married late in life (age 65) to Elizabeth Cooke, daughter of William Cooke, a hotel keeper—but don't let historical fact disrupt your anticipation of wedding bells with Head Dresser Mrs. Skerrett!
Original post: Rare Book Highlights: Mr. Francatelli's cookbook
Publication date: March 2, 2018
References
Baker, Anne Pimlott. "Francatelli, Charles Elmé (1805-1876)." Oxford Dictionary of National Biography. Edited by H.C.G. Matthew and Brian Harrison, Oxford University Press, 2004, 729.
Francatelli, Charles Elmé. A Plain Cookery Book for the Working Classes. 1852.
Francatelli, Charles Elmé. The Cook's Guide and Housekeeper's and Butler's Assistant. 1861.
Francatelli, Charles Elmé. The Royal English and Foreign Confectioner. 1862.
Francatelli, Charles Elmé. Francatelli's modern cook : a practical guide to the culinary art in all its branches : comprising, in addition to English cookery, the most approved and recherché systems of French, Italian, and German cookery… Reprinted from the 26th London ed., Philadelphia, D. McKay, 1895.
Sherman, Sandra. Invention of the Modern Cookbook. Greenwood, 2010.