When/Where/What
From February 3 to April 17, 2020, Collegiate Fashion & Activism: Black Women's Styles on the College Campus was mounted in Iowa State University's Textiles and Clothing Museum. In this catalog, we document the entirety of the exhibition and the associated programming.
In the catalog Introduction, we first provide an overview of the exhibition. We highlight the 15 Black women who contributed to the exhibition. Two videos are available for view including a short gallery walk through the exhibition and also a film including the Black women featured in the exhibition that was continuously playing in the gallery space. Installation process pictures are available to view and information about the curators are provided.
In Exhibition Vignettes, we include images of the 40 objects featured in the exhibition, introductions to each theme, and detailed object descriptions. Each section is organized around one of the 11 exhibition themes.
In Photography, we include all of the large-scale photographs featured on the walls of the gallery along with contextual information for the images.
In Scholarship and Public Events, we include information on the programming associated with the exhibition. We first provide a short curator-talk film; information about Kimberly Jenkins, our visiting scholar; and finally all of the events or peer-reviewed research presentations that were completed with this research.
In Combating White Supremacy, we explore the ways that we resisted anti-racist discourse in the academy.
Lastly, in Exhibition Reviews, we provide the reviews from our museum-experience survey.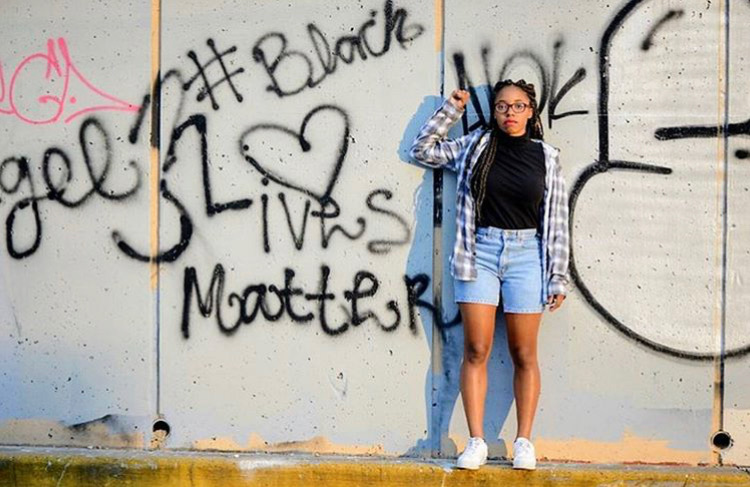 Exhibition Overview
As humans, we communicate our many identities, such as race, gender, and social class through what we choose to wear. While the decisions we make to dress ourselves may not be conscious, they are always important, informative, and reflect who we are.
In Collegiate Fashion & Activism: Black Women's Styles on the College Campus, we analyze the ways Black women college students attending predominately white institutions in Iowa express their Black identity, activism, and expressions of empowerment through fashion. We focus on Black women's everyday clothing and its connection to Black student empowerment on Iowa college campuses. We use counter-story telling to make space for Black women's voices and styles in 21st century fashion history.
Fifteen Black women college students who are currently attending predominately white institutions in Iowa shared stories through an in-depth interview about their fashion and style. Then, these same women collectively loaned 40 garments or accessories that they discussed during their interviews, which are on display. The Black women also shared images during the interview, which we featured on the walls of the gallery, and in the "photography" section of the catalog. Through eleven themes, we explore the ways Black women represent themselves everyday in predominately white spaces within the highly turbulent, current social climate. We focus on 2013 to the present, as there was a significant increase in activism involvement following the start of the Black Lives Matter movement in 2013.
For Black women college students, dress can be a form of empowerment and authenticity—themes that are found in each exhibition section.
In Messages of Strength, we acknowledge the power within the Black community, and the need to continue support by shopping at Black owned businesses or advocating for Black people in positions of power.
The section 90s Throwback explores the nostalgic style of popular 1990s television shows featuring all-Black casts (e.g. Martin, A Different World, Sister-Sister) that are reemerging within the Black millennial community.
Matriarch focuses on the strong Black woman leader of the Black family, in this case, the grandmother.
The section Self-Created Expression represents designs created by Black women that overtly express their Black or activist identities.
In Pride in Skin Tone, we represent the ways that Black women embrace their darker skin tone when wearing brighter colored garments.
Cause Solidarity represents Black women advocating for various social justice issues including the Flint water crisis and women's rights.
Connection to Roots represents the Black woman's desire for connection to their ancestors in Africa.
In Fearless Expression the garments represent the ways Black women fearlessly express who they are through dress despite being in predominately white spaces.
Yes, I Can! explores the experiences of a Black women in not only a predominantly white space, but a predominantly male space as an engineering student.
The section Powerful Words represents the use of slogan T-shirts to share messages of the rejection of social injustices.
Lastly, Black Girl Accessories highlights different types of accessories that overtly express Black identity.
Through all of the themes, we center and prioritize Black women's voices as important and give them their deserved space in 21st century fashion history. These Black women college students had unique styles that reflected their Blackness in varied ways. In fashioning their bodies, they expressed pride in their identity and significant interests in uplifting the Black community. While navigating a predominantly white campus that at times they felt was unsafe and unwelcoming for Black women, they found ways to authentically express their Black identity through their clothing.
We are honored and grateful to be able to tell these stories.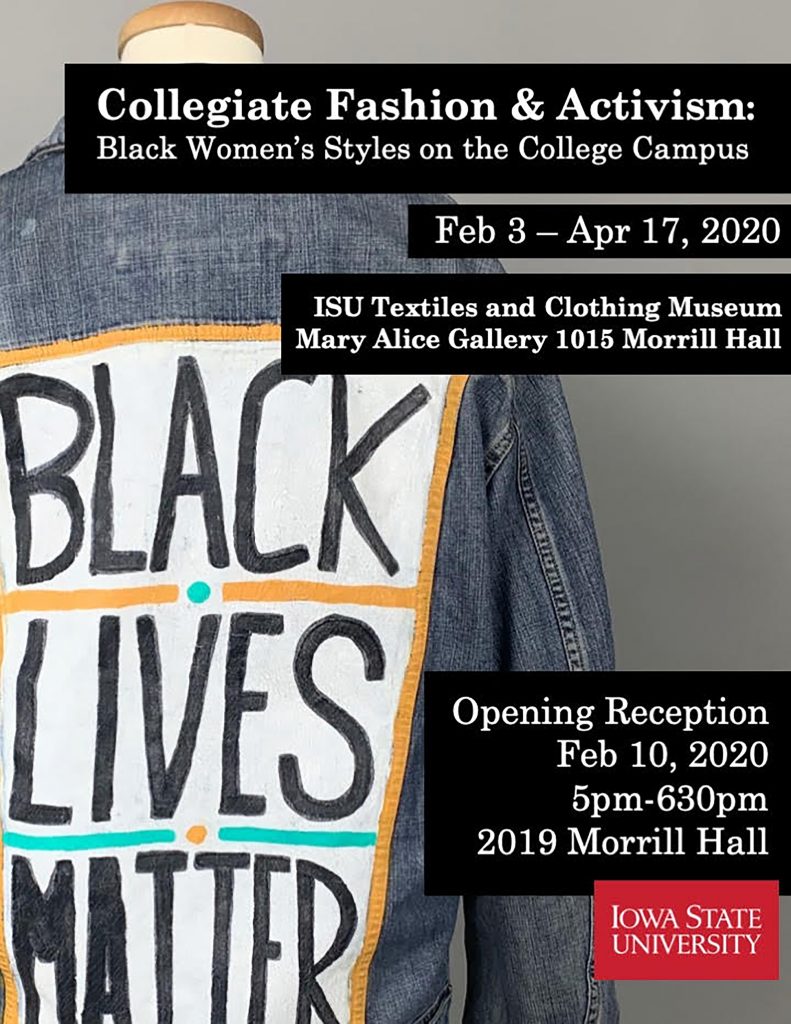 15 Black Women Interviewees
The 15 Black women college students who were interviewed for the exhibition are pictured below. Some of the women chose to blur their face or use a pseudonym for anonymity. From left to right top row: Lucille, Princess, Nina, Donielle, Erica (pseudonym); middle row: Oni, Vashalice, Kara (pseudonym), Brea, Truth; lower row: Destiny, Viveca, Marie, Aja (pseudonym), and Bianca (pseudonym).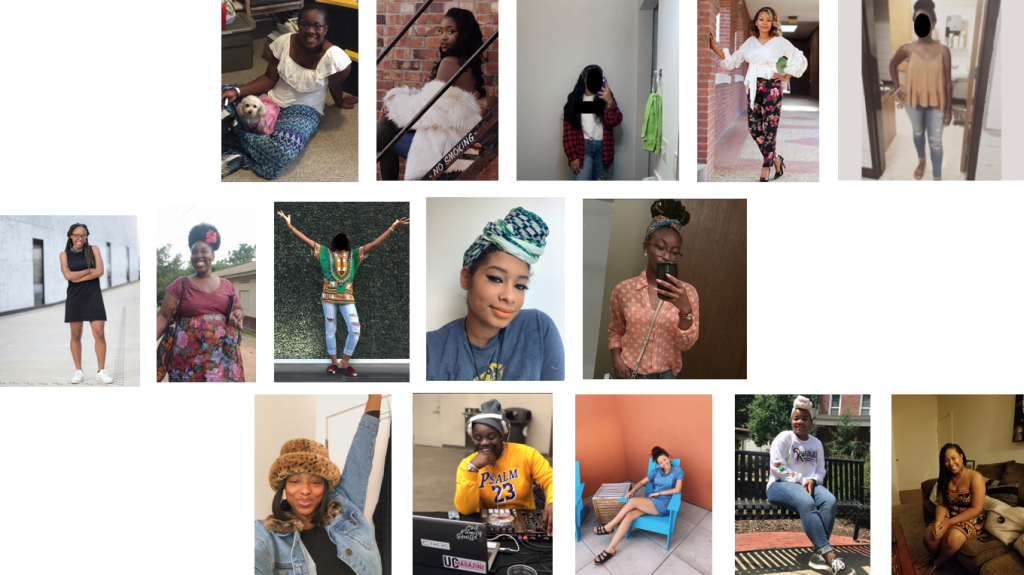 Exhibition Media
Installation
Curators
Dyese Matthews, Masters student in Apparel, Merchandising, and Design at Iowa State University, Agatha Huepenbecker Burnet Endowed Graduate Research Assistant, Department of Apparel, Events, Hospitality Management (pictured below)
Dyese Matthews is a graduate student pursing a MS in Apparel, Merchandising, and Design at Iowa State University. She received her bachelor's degree from Central Michigan University where she conducted research on Black history within North American fashion. She currently researches the expressions of identities through dress and appearance practices.
Kelly L. Reddy-Best, PhD, Associate Professor in Apparel, Merchandising, and Design at Iowa State University, Department of Apparel, Events, Hospitality Management
Kelly L. Reddy-Best has taught 16 unique course topics in the apparel design curriculum in the following areas: collections, construction, design theory, product development, sourcing, illustration, history, culture, theory, and research methods. In her research she examines the interrelationships of gender, sexuality, dress, and identity. She is committed to social justice philosophies in both her teaching and research.
Agatha Huepenbecker Burnet Endowed Graduate Research Assistantship
From 2018-2020 Dyese Matthews held the highly competitive Agatha Huepenbecker Burnet Endowed Graduate Research Assistantship. This exhibition was the major project she completed as part of her assistantship. Her research for this project also served as her master's thesis, which will soon be available in ISU's digital archive where you can read the full details of the research including the introduction, literature review, methods, results, discussion, and conclusion. Dr. Kelly Reddy-Best served as her major professor for her master's program and also directed the research portion of her assistantship.
Dedication
We dedicate this exhibition and catalog to all of the Black women who have attended predominantly white institutions.